Do you want to truly escape? Perhaps read that book, do that puzzle, learn that card game, or apply that long overdue face mask? I've got just the place for you!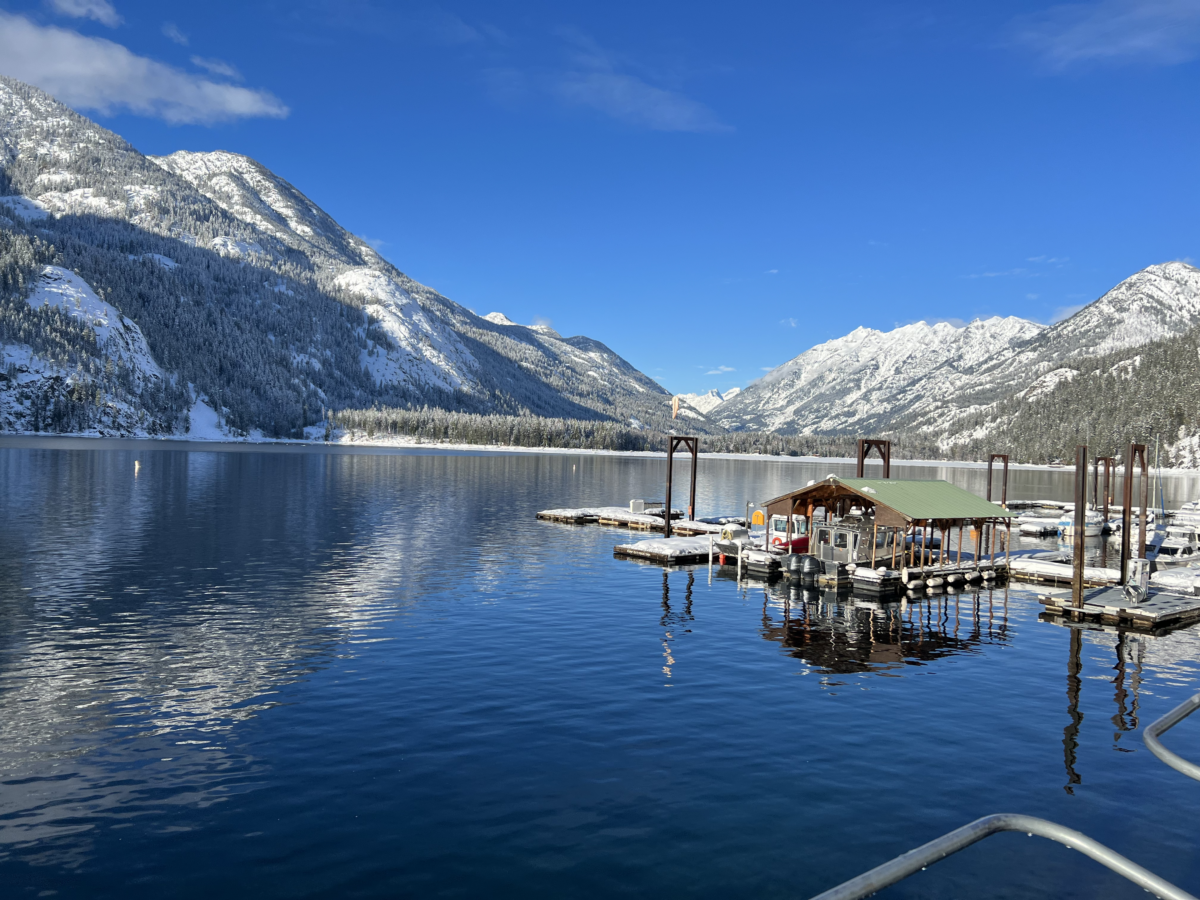 I grew up hearing about the tiresome day my mom took me, my brother, and sister on a four-hour boat ride the full length of Lake Chelan. Apparently doing so with little kids wasn't a fond memory for her – which I say with a smile! I did not realize until recently, that there is a quaint town at the far end of the lake that that holds year round appeal. And if you take the ferry from Fields Point landing it's only 1.5 hours to Stehekin.
Fun Fact

Lake Chelan is the third deepest lake in the US with a maximum depth of 1,486 ft.
In the summer, there is a bustling community, amazing bakery, North Cascades Lode, and Stehekin Valley ranch. Visitors arrive via ferry, plane, hike in on the Pacific Crest Trail, or on horseback. It's a popular day trip destination for hiking, horse riding, kayaking, fishing, and visiting the Buckner Orchard and Homestead. Electric bikes are available to rent for transportation while you are exploring.

Reminder

There is no cell service in Stehekin. Some of the rental homes have wifi, check ahead of time and plan to be off grid. I took my Garmin InReach, so that my kids could message me while I was visiting.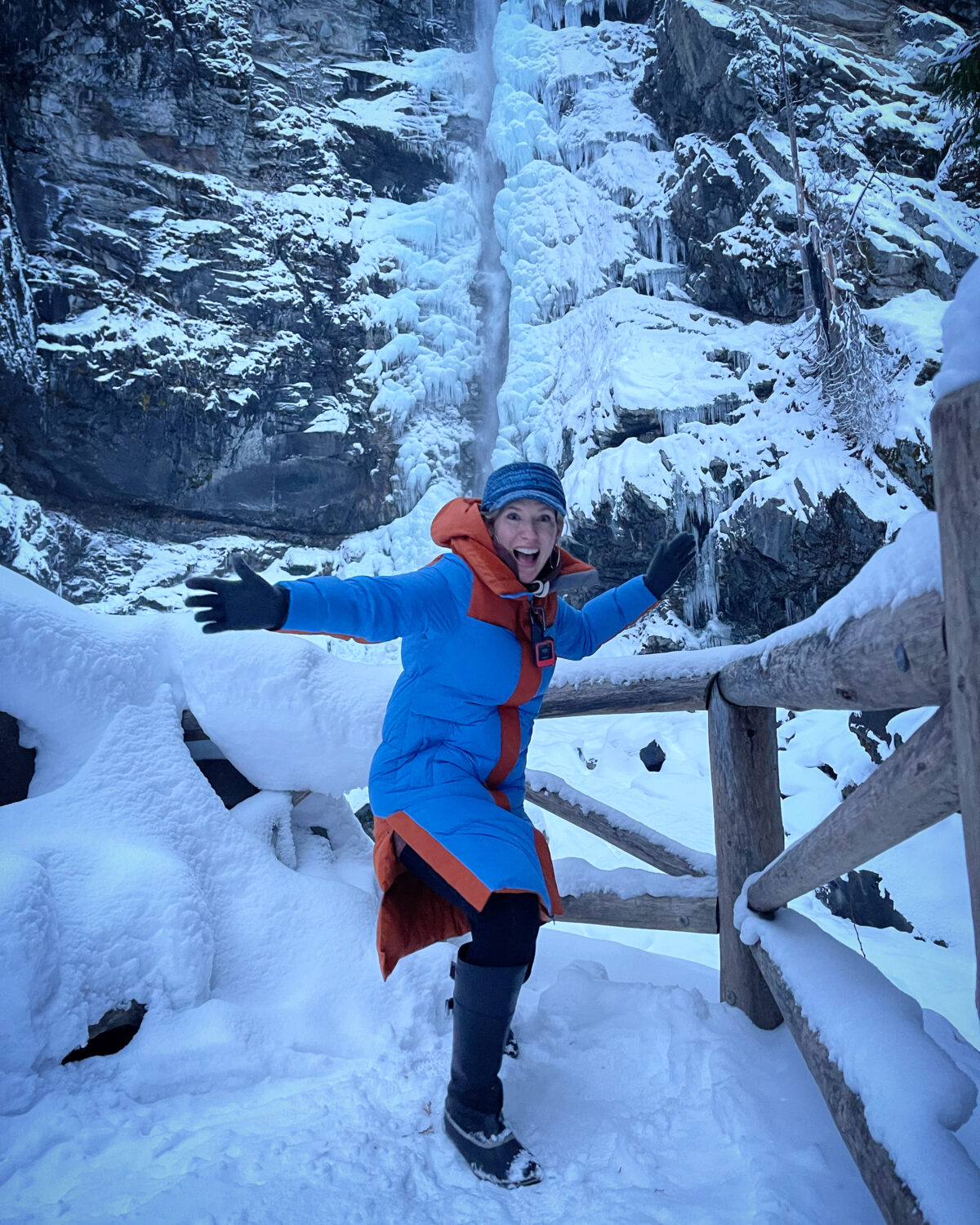 Winter is when the magic really happens in Stehekin. There's an adventurous draw to traveling out to an area when everything is closed for the season. Even when camping, I know I can always drive out to a gas station somewhere to find any last-minute items. In Stehekin that isn't the case. You'd have to catch the ferry the following day! It is strikingly beautiful covered in the 4-7 feet of snowpack they typically get each year, and it is remote. So, dress warm, and along with your duffle bag, bring a cooler!
Weekend meal planning
I pre-made a lasagna, which was the main staple for dinners. A loaf of fresh sourdough from my local bakery made for amazing avocado toast in the morning and Field Roast veggie sandwiches for lunch. A package of Flax for Life Chocolate Brownies solved the need for something sweet, along with sliced apples, crackers and hummus for snacks. A couple bottles of local wine from Cave B was a must!

Getting there is easy and enjoyable on the Stehekin ferry from Fields Point landing, approximately 17 miles from the town of Chelan. Don't be shy, drive right down to the landing and use a provided cart to take your things down to the boat. Leave everything at the "Stehekin" sign and they will load it up for you. Drive your vehicle up to the parking area and pay at the office, and you're set to go! Remember to arrive 30 minutes prior to sailing.
You've arrived!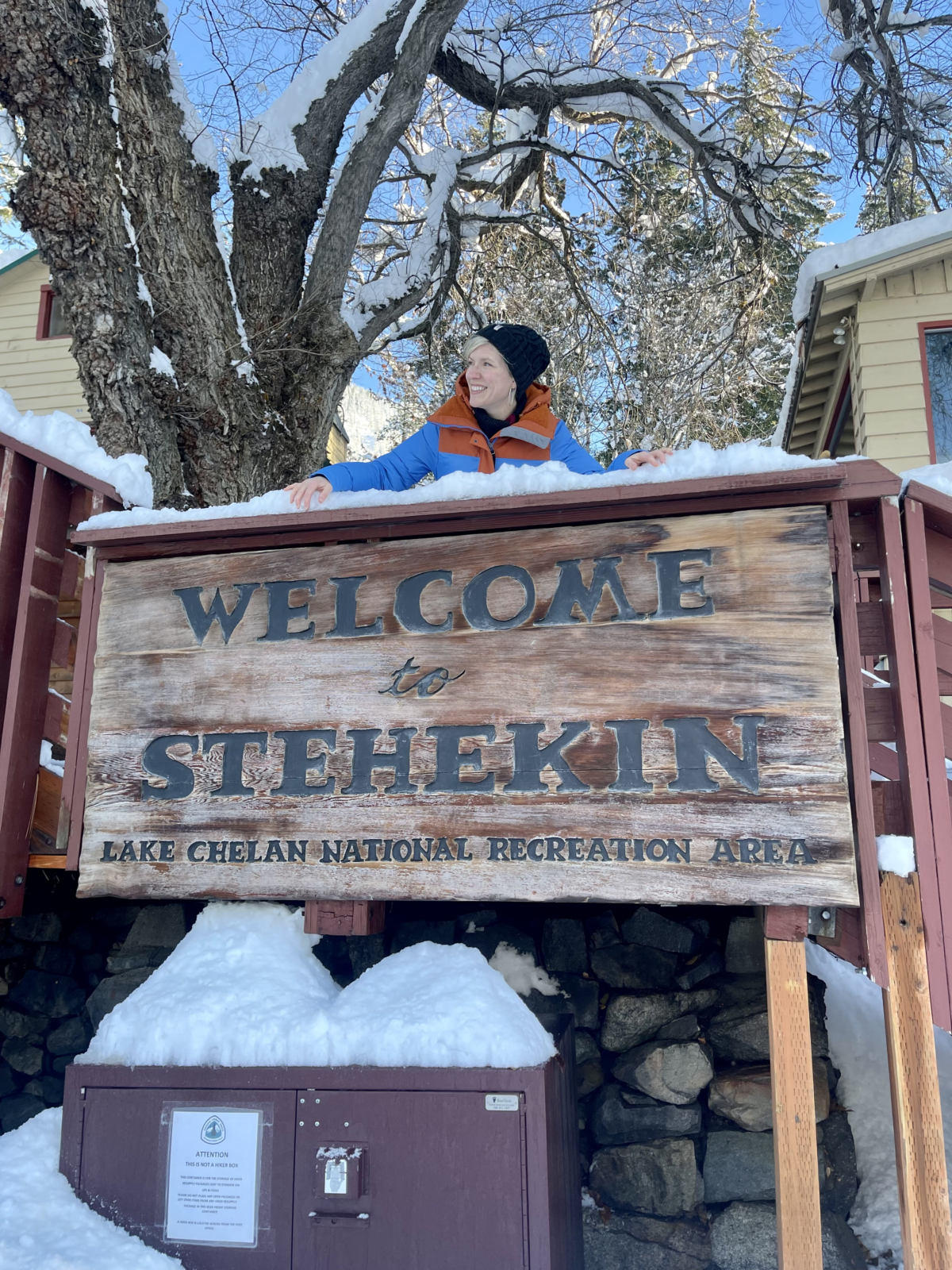 A warm greeting from the hosts, as they helped us load our things into a large green van, then handed me the keys! I had a huge smile jumping in and following them out to the log cabin. They said, "Have fun, explore, and leave the keys inside when you catch the ferry home on Sunday!"
While there, make sure to check out Rainbow Falls. It's just a couple miles up the road. It was stunning partially frozen, and the snow covered trail was amazing to explore. The old schoolhouse is a fun piece of history to check out as well. The single road is dotted with unique homes and cabins. The main road is plowed, so it's possible to explore on foot or via vehicle.

At the cabin, take in rustling sounds of the snow sliding off the roof, work on a puzzle, practice your Scrabble skills, eat, drink, and be merry. There is nothing better than being snowed into a log cabin to force yourself to sit back and unwind. And, let's face it, we could all benefit from a little more rest and relaxation.